Attention A T users. To access the menus on this page please perform the following steps. 1. Please switch auto forms mode to off. 2. Hit enter to expand a main menu option (Health, Benefits, etc). 3. To enter and activate the submenu links, hit the down arrow. You will now be able to tab or arrow up or down through the submenu options to access/activate the submenu links.

Seattle-Denver Center of Innovation (COIN)
COIN Investigators & Staff

COIN Investigators
Joe Frank, MD, MPH

Title: VA Section Chief, Pain Medicine
Director, VA Eastern Colorado Chronic Pain & Wellness Center
Associate Professor, Division of General Internal Medicine, University of Colorado School of Medicine
Contact: Joseph.Frank2@va.gov
Location: Denver
See Dr. Frank's Dimensions profile that includes: publications, grants, datasets, patents and clinical trials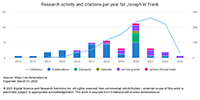 Our research aims to improve access to effective care for Veterans with chronic pain. This involves both expanding access to existing evidence-based treatments and developing new options to expand the chronic pain care toolkit. Across all aspects of our work, we are committed to meaningful Veteran engagement and participation.
I am interested in these issues because they can have such an important impact on Veterans, their lives and their families. As a general internist and researcher in VA, it is a privilege work with and learn from our Veteran patients and to partner to improve care for Veterans with chronic pain.
We are excited about the future of chronic pain care and research. There is no better place than VA to be part of this important work!
The following images visualize Dr. Frank's work. The word cloud is drawn from publication titles. The research collaboration map shows research relationships (click the image to enlarge):
The following research fields have been used to summarize Dr. Frank's publications and grants. The categories are based on 38 publications and 3 grants.

| Publications | Grants |
| --- | --- |
| Clinical Research | Behavioral and Social Science |
| Pain Research | Clinical Research |
| Chronic Pain | Pain Research |
| Health Services | Chronic Pain |
| Substance Abuse | Health Services |
| Neurosciences | Brain Disorders |
| Behavioral and Social Science | Mental Health |
| Prevention | Cost Effectiveness Research |
| Prescription Drug Abuse | Clinical Trials and Supportive Activities |
| Brain Disorders | Comparative Effectiveness Research |
Grants & Funding
Consortium to Disseminate and Understand Implementation of Opioid Use Disorder Treatment
Role: Co-PI
Opioid use disorder (OUD) is a significant cause of morbidity and mortality among Veterans, for which effective treatment is a major priority of the Veterans Health Administration (VHA). Expanding access to alternatives to opioids for chronic pain management is also a leading priority.
Effective medications for OUD (MOUD) are available, but their uptake is highly variable across VHA.
Our proposal aims to coordinate the efforts of five successful pilot projects (Phase 1) into a consortium to maximize value to VHA and inform future dissemination efforts in improving the uptake of MOUD and alternative therapies for pain in VHA nationally (Phase 2).
The leads of Phase 1 projects will leverage successful partnerships with VISN leadership to combine into an integrated effort that spans six VISNs and 57 sites.
Funder: Veterans Affairs
NIH website
Value-Based Care to Improve the Quadruple Aim for Veterans and Stakeholders
Role: Co-PI with P. Michael Ho PI is Catherine Battaglia
The Quadruple Aim Quality Enhancement Research Initiative (QUERI) aims to improve the care and experience for Veterans, clinician engagement, and reduce the cost of care. We will improve care coordination between Veterans Health Administration (VA) and community settings for Veterans using three evidence-based practices rooted in care coordination models to achieve consistently safe, efficient, and effective care for Veterans who are:
1) referred to home health care after discharge from VA,
2) receiving medication treatment for Opioid Use Disorders in the community, and
3) hospitalized or receiving emergency care in the community and return to VA or VA-assigned community PCP for ongoing care.
Veterans with complex medical and social needs will be case managed by a multidisciplinary team to ensure timely access to care and linkage to resources. The Quadruple Aim QUERI will improve health with optimal patient and clinician experience at a lower cost.
Funder: Veterans Affairs
NIH website
Recent Publications
2023
Rogers DG, Frank JW, Wesolowicz DM, Nolan C, Schroeder A, Falker C, Abelleira A, Moore BA, Becker WC, Edmond SN. Video-telecare collaborative pain management during COVID-19: a single-arm feasibility study. BMC Prim Care. 2023 Jun 29;24(1):134. doi: 10.1186/s12875-023-02052-2. PMCID: PMC10308713.
PMID: 37386370
Learn more about this publication at Dimensions
2022
Gordon AJ, Kenny M, Dungan M, Gustavson AM, Taylor Kelley A, Jones AL, Hawkins E, Frank JW, Danner A, Liberto J, Hagedorn H. Are x-waiver trainings enough? Facilitators and barriers to buprenorphine prescribing after x-waiver trainings. Am J Addict. 2022 Feb 3. doi: 10.1111/ajad.13260. Epub ahead of print.
PMID: 35118756
Learn more about this publication at Dimensions
2021
Quinlan TAG, Roberts AW, Frank JW, Whittington MD. Health costs of women with chronic overlapping pain conditions by opioid and complementary and integrative health use. Health Serv Res. 2021 Aug 28. doi: 10.1111/1475-6773.13875. Epub ahead of print.
PMID: 34453324.
2020
Frank JW, Bohnert ASB, Sandbrink F, McGuire M, Drexler K. Implementation and Policy Recommendations from the VHA State-of-the-Art Conference on Strategies to Improve Opioid Safety. J Gen Intern Med. 2020 Dec;35(Suppl 3):983-987. doi: 10.1007/s11606-020-06295-y. Epub 2020 Nov 3. PMCID: PMC7609348.
PMID: 33145691.
Frank JW, Carey E, Nolan C, Hale A, Nugent S, Krebs EE. Association Between Opioid Dose Reduction Against Patients' Wishes and Change in Pain Severity. J Gen Intern Med. 2020 Dec;35(Suppl 3):910-917. doi: 10.1007/s11606-020-06294-z. Epub 2020 Nov 3.
PMID: 33145690.
Seal KH, Becker WC, Murphy JL, Purcell N, Denneson LM, Morasco BJ, Martin AM, Reddy K, Iseghem TV, Krebs EE, Painter JM, Hagedorn H, Pyne JM, Hixon J, Maguen S, Neylan TC, Borsari B, DeRonne B, Gibson C, Matthias MS, Frank JW, Krishnaswamy A, Li Y, Bertenthal D, Chan A, Nunez A, McCamish N. Whole Health Options and Pain Education (wHOPE): A Pragmatic Trial Comparing Whole Health Team vs Primary Care Group Education to Promote Nonpharmacological Strategies to Improve Pain, Functioning, and Quality of Life in Veterans-Rationale, Methods, and Implementation. Pain Med. 2020 Dec 12;21(Suppl 2):S91-S99. doi: 10.1093/pm/pnaa366. PMCID: PMC7825011.
PMID: 33313734.
Bastian LA, Cohen SP, Katsovich L, Becker WC, Brummett BR, Burgess DJ, Crunkhorn AE, Denneson LM, Frank JW, Goertz C, Ilfeld B, Kanzler KE, Krishnaswamy A, LaChappelle K, Martino S, Mattocks K, McGeary CA, Reznik TE, Rhon DI, Salsbury SA, Seal KH, Semiatin AM, Shin MH, Simon CB, Teyhen DS, Zamora K, Kerns RD; NIH-DOD-VA Pain Management Collaboratory (Collaboratory member: Zeliadt SB). Stakeholder Engagement in Pragmatic Clinical Trials: Emphasizing Relationships to Improve Pain Management Delivery and Outcomes. Pain Med. 2020 Dec 12;21(Suppl 2):S13-S20. doi: 10.1093/pm/pnaa333. PMCID: PMC7824996.
PMID: 33313726.
Leonard C, Ayele R, Ladebue A, McCreight M, Nolan C, Sandbrink F, Frank JW. Barriers to and Facilitators of Multimodal Chronic Pain Care for Veterans: A National Qualitative Study. Pain Med. 2020 Sep 24:pnaa312. doi: 10.1093/pm/pnaa312. Epub ahead of print.
PMID: 32974662.
Becker WC, Frank JW, Edens EL. Switching From High-Dose, Long-Term Opioids to Buprenorphine: A Case Series. Ann Intern Med. 2020 Jul 7;173(1):70-71. doi: 10.7326/L19-0725. Epub 2020 Apr 7.
PMID: 32252072.
Krebs EE, Clothier B, Nugent S, Jensen AC, Martinson BC, Goldsmith ES, Donaldson MT, Frank JW, Rutks I, Noorbaloochi S. The evaluating prescription opioid changes in veterans (EPOCH) study: Design, survey response, and baseline characteristics. PLoS One. 2020 Apr 22;15(4):e0230751. doi: 10.1371/journal.pone.0230751. eCollection 2020.
PMID: 32320421.
2019
McCreight MS, Rabin BA, Glasgow RE, Ayele RA, Leonard CA, Gilmartin HM, Frank JW, Hess PL, Burke RE, Battaglia CT. Using the Practical, Robust Implementation and Sustainability Model (PRISM) to qualitatively assess multilevel contextual factors to help plan, implement, evaluate, and disseminate health services programs. Transl Behav Med. 2019 Nov 25;9(6):1002-1011. doi: 10.1093/tbm/ibz085.
PMID: 31170296.
Media (Video, Podcast, Other)
Webinar: Virtual Chronic Pain Care: Current State & Future Directions
by Joseph Frank, MD, MPH ; Krista Scorsone, PhD, RN, PMHNP-BC
Seminar date: 12/7/2021
Description: The session will provide an overview of virtual chronic pain care resources and an introduction to pain self-management support apps. We will present an update on two pilot studies of virtual pain care interventions and discuss future directions for research and clinical care.
Find the PDF handout and transcript
Podcast: Pain Management and Opioid Safety
4 May 2018
Dr. Heather Gilmartin, nurse scientist at the Denver/Seattle Center of Innovation in Denver, Colorado, talks with her colleague, Dr. Joe Frank, primary care physician at the Denver VA and health services researcher at the Denver/Seattle Center of Innovation, about his work in the area of pain management and opioid safety.
Listen to Pain Management and Opioid Safety (10:54)
return to top