Attention A T users. To access the menus on this page please perform the following steps. 1. Please switch auto forms mode to off. 2. Hit enter to expand a main menu option (Health, Benefits, etc). 3. To enter and activate the submenu links, hit the down arrow. You will now be able to tab or arrow up or down through the submenu options to access/activate the submenu links.

Seattle-Denver Center of Innovation (COIN)
COIN Investigators & Staff

COIN Investigators
Jacob Doll, MD

Title: MD Fellowship Co-Director, Seattle
Assistant Professor, Medicine, University of Washington
Attending Physician, VA Puget Sound Health Care System
Contact: Jacob.Doll@va.gov
Location: Seattle
I study clinical performance assessment and feedback, with a focus on cardiovascular procedures. My research examines how clinicians improve their practice and learn new skills.
As a physician scientist working in the VA, I have the opportunity to improve the health of Veterans in two ways: 1) direct care in the hospital and 2) improving how we deliver cardiac care across the nation. No other health system in the US provides the such reach and impact for improving patient outcomes.
I hope my work will change the way we assess clinician performance, leading to better and happier clinicians who ultimately provide superior care to Veterans.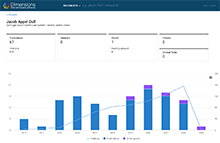 See Dr. Doll's Dimensions profile that includes: publications, grants, datasets, patents and clinical trials.
The following images visualize Dr. Doll's work. The word cloud is drawn from publication titles. The research collaboration map shows research relationships (click the image to enlarge):
The following research fields have been used to summarize Dr. Doll's publications and grants.

| Publications | Grants |
| --- | --- |
| Cardiovascular | Cardiovascular |
| Heart Disease | Heart Disease - Coronary Heart Disease |
| Clinical Research | Heart Disease |
| Heart Disease - Coronary Heart Disease | Clinical Research |
| Patient Safety | Clinical Trials and Supportive Activities |
| Clinical Trials and Supportive Activities | |
| Atherosclerosis | |
| Aging | |
| Health Services | |
| Rehabilitation | |
Grants & Funding
Improving Performance Evaluation of Clinicians to Support National Standards of Practice
VA hospitals measure the performance of clinicians through systematic reviews of clinical care. These Ongoing Professional Practice Evaluations (OPPE) determine if clinicians are competent to continue VA practice. The current OPPE process is inefficient and does not have clear benefits for professional development or patient care.
A new VA mandate requires national standards of practice for all clinicians and methods to enforce these standards. With a focus on outpatient cardiology care, we propose to develop and test a novel two-tiered OPPE system:
1) Clinician assessment with electronic quality measures. Our research will establish the reliability of these measures and determine the best ways to measure clinicians.
2) Clinicians with substandard performance on quality measures will then encounter peer review. Our research will determine the best methods for peer review.
We will survey and interview clinicians to determine how current and proposed OPPE methods impact their practice and professional development.
Funder: Veterans Affairs
NIH website
Peer learning to promote quality and appropriate use of percutaneous coronary intervention
Percutaneous coronary intervention (PCI), or "stenting," is a standard cardiac procedure that can improve survival and quality of life when used appropriately. The quality of PCI care varies among hospitals and physicians, and only 24% of elective procedures in VA are considered appropriate, potentially putting patients at risk without clear benefit.
A national registry receives reports on nearly all PCI procedures. However, physicians need more meaningful feedback about their care.
This research will develop and test a peer learning intervention that facilitates clinician-to-clinician feedback and collaborative professional development. The intervention will provide actionable, personalized, and trusted feedback that promotes quality care and appropriate case selection.
It will be designed with input from physicians and other stakeholders to be usable and acceptable. A successful peer review intervention could substantially reduce the number of patients receiving unnecessary stents and improve overall procedural quality.
Funder: Veterans Affairs
NIH website
Publications of note:
Interventional cardiologists' perceptions of percutaneous coronary intervention quality measurement and feedback
Innovation culture and adoption of innovation in VA Cardiology
Role: Co-PI with Heather Gilmartin
Funder: Veterans Affairs
Workload assessment and financial incentives in cardiology
Funder: John L. Locke Charitable Fund
Recent Publications
2023
Salahuddin T, Hebbe A, Daus M, Essien UR, Waldo SW, Rodriguez F, Ho PM, Simons C, Gilmartin HM, Doll JA. Trends and Site-level Variation of Novel Cardiovascular Medication Utilization among Patients Admitted for Heart Failure or Coronary Artery Disease in the US Veterans Affairs System: 2017-2021. Am Heart J. 2023 Nov 11:S0002-8703(23)00318-6. doi: 10.1016/j.ahj.2023.11.009. Epub ahead of print.
PMID: 37956920
Learn more about this publication at Dimensions
Abera SM, O'Donnell C, Salahuddin T, Prabhu K, Simons CE, Ho PM, Waldo SW, Doll JA. Assessment of Medication Adherence Using Pharmacy Data Before and After Percutaneous Coronary Intervention. Patient Prefer Adherence. 2023 Nov 3;17:2789-2795. doi: 10.2147/PPA.S431183. PMCID: PMC10629403.
PMID: 37942121.
Learn more about this publication on Dimensions
Naranjo D, Doll J, Maynard C, Beaver K, Bansal A, Helfrich CD. Practice Pattern Variation in Adoption of New and Evolving Percutaneous Coronary Intervention Procedures. J Interv Cardiol. 2023 May 4;2023:2488045. doi: 10.1155/2023/2488045. PMCID: PMC10175015.
PMID: 37181493
Learn more about this publication on Dimensions
Blankenship JC, Doll JA, Latif F, Truesdell AG, Young MN, Ibebuogu UN, Vallabhajosyula S, Kadavath SM, Maestas CM, Vetrovec G, Welt F. Best Practices for Cardiac Catheterization Laboratory Morbidity and Mortality Conferences. JACC Cardiovasc Interv. 2023 Mar 13;16(5):503-514. doi: 10.1016/j.jcin.2022.10.017.
PMID: 36922035
Learn more about this publication on Dimensions
2022
Kataruka A, Maynard CC, Hira RS, Dean L, Dardas T, Gurm H, Brown J, Ring ME, Doll JA. Government Regulation and Percutaneous Coronary Intervention Volume, Access and Outcomes: Insights From the Washington State Cardiac Care Outcomes Assessment Program. J Am Heart Assoc. 2022 Sep 6;11(17):e025607. doi: 10.1161/JAHA.122.025607. Epub 2022 Sep 3.
PMID: 36056726
Learn more about this publication on Dimensions
Thai T, Louden DKN, Adamson R, Dominitz JA, Doll JA. Peer evaluation and feedback for invasive medical procedures: a systematic review. BMC Med Educ. 2022 Jul 29;22(1):581. doi: 10.1186/s12909-022-03652-9. PMCID: PMC9335975.
PMID: 35906652
Doll JA, Lata K, Kearney KE. Feedback and the Early Career Proceduralist: How Am I Doing? J Am Coll Cardiol. 2022 Mar 29;79(12):1215-1219. doi: 10.1016/j.jacc.2021.08.079.
PMID: 35331417
Learn more about this publication on Dimensions
Doll JA, Beaver K, Naranjo D, Waldo SW, Maynard C, Helfrich CD, Rao SV. Trends in Arterial Access Site Selection and Bleeding Outcomes Following Coronary Procedures, 2011-2018. Circ Cardiovasc Qual Outcomes. 2022 Mar 11:CIRCOUTCOMES121008359. doi: 10.1161/CIRCOUTCOMES.121.008359. Epub ahead of print.
PMID: 35272504
Learn more about this publication on Dimensions
Waldo SW, Glorioso TJ, Barón AE, Doll JA, Plomondon ME, Ho PM. Transitions of Care Among Patients Undergoing Percutaneous Coronary Intervention for Stable Angina: Insights From the Veterans Affairs Clinical Assessment Reporting and Tracking Program. J Am Heart Assoc. 2022 Feb 15;11(4):e024598. doi: 10.1161/JAHA.121.024598. Epub 2022 Feb 12.
PMID: 35156396
Learn more about this publication on Dimensions
2021
Doll JA, O'Donnell CI, Plomondon ME, Waldo SW. Contemporary Clinical and Coronary Anatomic Risk Model for 30-Day Mortality After Percutaneous Coronary Intervention. Circ Cardiovasc Interv. 2021 Dec 14:CIRCINTERVENTIONS121010863. doi: 10.1161/CIRCINTERVENTIONS.121.010863. Epub ahead of print.
PMID: 34903032
Doll JA, Nelson AJ, Kaltenbach LA, Wojdyla D, Waldo SW, Rao SV, Wang TY. Percutaneous Coronary Intervention Operator Profiles and Associations With In-Hospital Mortality. Circ Cardiovasc Interv. 2021 Dec 1:CIRCINTERVENTIONS121010909. doi: 10.1161/CIRCINTERVENTIONS.121.010909. Epub ahead of print.
PMID: 34847693
Kovach CP, O'Donnell CI, Swat S, Doll JA, Plomondon ME, Schofield R, Valle JA, Waldo SW. Impact of operator volumes and experience on outcomes after percutaneous coronary intervention: Insights from the Veterans Affairs Clinical Assessment, Reporting and Tracking (CART) program. Cardiovasc Revasc Med. 2021 Nov 6:S1553-8389(21)00735-1. doi: 10.1016/j.carrev.2021.11.008. Epub ahead of print.
PMID: 34774419
Beaver K, Naranjo D, Doll J, Maynard C, Taylor L, Plomondon M, Waldo S, Helfrich CD, Rao SV. Design and baseline results of a coaching intervention for implementation of trans-radial access in percutaneous coronary intervention. Contemp Clin Trials. 2021 Oct 25:106606. doi: 10.1016/j.cct.2021.106606. Epub ahead of print.
PMID: 34710590
Kochar A, Doll JA, Liang L, Curran J, Peterson ED. Temporal Trends in Post Myocardial Infarction Heart Failure and Outcomes among Older Adults. J Card Fail. 2021 Sep 11:S1071-9164(21)00361-4. doi: 10.1016/j.cardfail.2021.09.001. Epub ahead of print.
PMID: 34624511
Nguyen DD, Doll JA. Quality Improvement and Public Reporting in STEMI Care. Interv Cardiol Clin. 2021 Jul;10(3):391-400. doi: 10.1016/j.iccl.2021.03.009.
PMID: 34053625
Gilmartin HM, Plomondon ME, Mueller C, Connelly B, Battaglia C, Waldo SW, Doll J. The Impacts of COVID-19 on Veterans Affairs Catheterization Laboratory Staff During the First Months of the US Response. J Cardiovasc Nurs. 2021 May 19. doi: 10.1097/JCN.0000000000000828. Epub ahead of print.
PMID: 34016839
Hira RS, Kataruka A, Maynard C, Dolgner S, Doll J. FAILURE TO RESCUE AFTER PCI: INSIGHTS FROM THE WASHINGTON STATE CARDIAC CARE OUTCOMES ASSESSMENT PROGRAM. Journal of the American College of Cardiology. 2021 May 15; 77(18)Supplement 1:908. doi:10.1016/S0735-1097(21)02267-1. PMID: 33567319
Prabhu KM, Don C, Sayre GG, Kearney KE, Hira RS, Waldo SW, Rao SV, Au DH, Doll JA. Interventional Cardiologists' Perceptions of Percutaneous Coronary Intervention Quality Measurement and Feedback. Am Heart J. 2021 Feb 7:S0002-8703(21)00032-6. doi: 10.1016/j.ahj.2021.01.019. Epub ahead of print. PMID: 33567319
2020
Waldo SW, Hebbe A, Grunwald GK, Doll JA, Schofield R. Clinical and Anatomic Complexity of Patients Undergoing Coronary Intervention With and Without On-Site Surgical Capabilities: Insights From the Veterans Affairs Clinical Assessment, Reporting and Tracking (CART) Program. Circ Cardiovasc Interv. 2020 Dec 23:CIRCINTERVENTIONS120009697. doi: 10.1161/CIRCINTERVENTIONS.120.009697. Epub ahead of print. PMID: 33354988
Doll JA. Quality of life after myocardial infarction: more PROgress needed. Heart. 2020 Jan;106(1):8-9. doi: 10.1136/heartjnl-2019-315871. Epub 2019 Nov 7.
PMID: 31699697
Doll JA, O'Donnell CI, Plomondon ME, Waldo SW. Development and implementation of an in-hospital bleeding risk model for percutaneous coronary intervention. Cardiovasc Revasc Med. 2020 Jul 31:S1553-8389(20)30460-7. doi: 10.1016/j.carrev.2020.07.033. Epub ahead of print. PMID: 32888839
Nathan AS, Raman S, Yang N, Painter I, Khatana SAM, Dayoub EJ, Herrmann HC, Yeh RW, Groeneveld PW, Doll JA, McCabe JM, Hira RS, Giri J, Fanaroff AC. Association Between 90-Minute Door-to-Balloon Time, Selective Exclusion of Myocardial Infarction Cases, and Access Site Choice: Insights From the Cardiac Care Outcomes Assessment Program (COAP) in Washington State. Circ Cardiovasc Interv. 2020 Sep;13(9):e009179. doi: 10.1161/CIRCINTERVENTIONS.120.009179. Epub 2020 Sep 4. PMID: 32883103
Doll JA, Hira RS, Kearney KE, Kandzari DE, Riley RF, Marso SP, Grantham JA, Thompson CA, McCabe JM, Karmpaliotis D, Kirtane AJ, Lombardi W. Management of Percutaneous Coronary Intervention Complications: Algorithms From the 2018 and 2019 Seattle Percutaneous Coronary Intervention Complications Conference. Circ Cardiovasc Interv. 2020 Jun;13(6):e008962. doi: 10.1161/CIRCINTERVENTIONS.120.008962. Epub 2020 Jun 12. PMID: 32527193
Kataruka A, Maynard CC, Kearney KE, Mahmoud A, Bell S, Doll JA, McCabe JM, Bryson C, Gurm HS, Jneid H, Virani SS, Lehr E, Ring ME, Hira RS. Temporal Trends in Percutaneous Coronary Intervention and Coronary Artery Bypass Grafting: Insights From the Washington Cardiac Care Outcomes Assessment Program. J Am Heart Assoc. 2020 Jun 2;9(11):e015317. doi: 10.1161/JAHA.119.015317. Epub 2020 May 27. PMCID: PMC7429009.
PMID: 32456522
Doll JA, Kaltenbach LA, Anstrom KJ, Cannon CP, Henry TD, Fonarow GC, Choudhry NK, Fonseca E, Bhalla N, Eudicone JM, Peterson ED, Wang TY. Impact of a Copayment Reduction Intervention on Medication Persistence and Cardiovascular Events in Hospitals With and Without Prior Medication Financial Assistance Programs. J Am Heart Assoc. 2020 Apr 21;9(8):e014975. doi: 10.1161/JAHA.119.014975. Epub 2020 Apr 17. PMCID: PMC7428537.
PMID: 32299284
Hess PL, Kini V, Liu W, Roldan P, Autruong P, Grunwald GK, O'Donnell C, Doll JA, Ho PM, Bradley SM. Appropriateness of Percutaneous Coronary Interventions in Patients With Stable Coronary Artery Disease in US Department of Veterans Affairs Hospitals From 2013 to 2015. JAMA Netw Open. 2020 Apr 1;3(4):e203144. doi: 10.1001/jamanetworkopen.2020.3144.
PMID: 32315067
2019
Morrison J, Plomondon ME, O'Donnell CI, Giri J, Doll JA, Valle JA, Waldo SW. Perceptions of Public and Nonpublic Reporting of Interventional Cardiology Outcomes and Its Impact on Practice: Insights From the Veterans Affairs Clinical Assessment, Reporting, and Tracking Program. J Am Heart Assoc. 2019 Nov 19;8(22):e014212. doi: 10.1161/JAHA.119.014212. Epub 2019 Nov 12. PMCID: PMC6915263.
PMID: 31711384
Doll JA. Quality of life after myocardial infarction: more PROgress needed. Heart. 2020 Jan;106(1):8-9. doi: 10.1136/heartjnl-2019-315871. Epub 2019 Nov 7. PMID: 31699697
Doll JA, Plomondon ME, Waldo SW. Characteristics of the Quality Improvement Content of Cardiac Catheterization Peer Reviews in the Veterans Affairs Clinical Assessment, Reporting, and Tracking Program. JAMA Netw Open. 2019 Aug 2;2(8):e198393. doi: 10.1001/jamanetworkopen.2019.8393.
PMID: 31373652
Rymer JA, Kaltenbach LA, Doll JA, Messenger JC, Peterson ED, Wang TY. Safety of Dual-Antiplatelet Therapy After Myocardial Infarction Among Patients With Chronic Kidney Disease. J Am Heart Assoc. 2019 May 21;8(10):e012236. doi: 10.1161/JAHA.119.012236. PMC6585341
PMID: 31070112
Doll JA, Jones WS, Lokhnygina Y, Culpepper S, Parks RL, Calhoun C, Au DH, Patel MR. PREPARED Study: A Study of Shared Decision-Making for Coronary Artery Disease. Circ Cardiovasc Qual Outcomes. 2019 Feb;12(2):e005244. doi: 10.1161/CIRCOUTCOMES.118.005244. PMID: 30764651
Media (Video, Podcast, Other)
Engaging Clinicians in Health Services Research: Peer Learning and a Pandemic
9 May 2023
by Chelsea Leonard, PhD; George Sayre, PsyD
return to top