Attention A T users. To access the menus on this page please perform the following steps. 1. Please switch auto forms mode to off. 2. Hit enter to expand a main menu option (Health, Benefits, etc). 3. To enter and activate the submenu links, hit the down arrow. You will now be able to tab or arrow up or down through the submenu options to access/activate the submenu links.

Seattle-Denver Center of Innovation (COIN)
COIN Investigators & Staff

COIN Investigators
Christine D. Jones, MD, MS

Title: Co-Director
Hospital Medicine Physician, Rocky Mountain Regional VA Medical Center
Associate Professor, Department of Medicine, University of Colorado, Anschutz Medical Center
Contact: Christine.Jones17@va.gov
Location: Denver
See Dr. Jones' Dimensions profile that includes: publications, grants, datasets, patents and clinical trials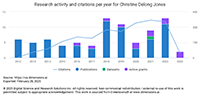 My research is focused on improving home health care for older Veterans and their caregivers. I am particularly interested in improving collaboration across care settings to help meet Veteran and caregiver needs related to home health, palliative care, and social determinants of health.
I am committed to improving how we support Veterans to age in their preferred place. Many of the Veterans I care for as a physician want to live in their homes for as long as they are able. Improving collaborations and communication between the VA, home health, palliative care, and other community partners is a key way to help our Veterans and their loved ones receive the supports they need.
My goal is to ask and answer key questions about home health care and palliative care for Veterans that can guide how the VA contracts with, reimburses, and delivers these services for Veterans to provide the highest quality care in their homes.
The following images visualize Dr. Jones' work. The word cloud is drawn from publication titles. The research collaboration map shows research relationships (click the image to enlarge):
The following research fields have been used to summarize Dr. Jones' publications and grants.

| Publications | Grants |
| --- | --- |
| Clinical Research | Aging |
| Health Services | Health Services |
| Cardiovascular | Behavioral and Social Science |
| Heart Disease | Clinical Research |
| Behavioral and Social Science | Pain Research |
| Patient Safety | Prevention |
| Clinical Trials and Supportive Activities | Patient Safety |
| Aging | |
| Prevention | |
| Rural Health | |
Grants & Funding
Post-Acute Home Health Care for Veterans: Examining Payer Source, Quality, and Outcomes
Role: Co-I with Kali S Marie Thomas
The proposed research is relevant to VHA's mission to "honor America's Veterans by providing exceptional healthcare that improves their health and well-being."
Post-acute skilled home health care is vital for older Veterans discharged from VA Medical Centers to their home needing additional nursing or therapy support. We understand little what influences the payer selection for home care services (i.e., VA versus Medicare), the quality of community home health care (HHC) provided, and how these factors influence Veterans' experiences of receiving skilled HHC and their health outcomes.
Therefore, it is essential to leverage both VA and Medicare data to understand HHC financing, quality, and outcomes for Veterans who receive skilled home health care, as well as the experiences of VA clinicians and staff, home health agencies, and Veteran and caregivers' who receive this service to both inform the delivery of skilled home health care and improve Veterans' health and well-being.
Funder: Veterans Affairs
NIH website
Development and evaluation of a palliative-transitional home health care model
Role: PI
Patients receiving home health care services are older and sicker than patients discharged home without these services. However, current home health care does not assess or address palliative care needs.
Models of care to support delivering enhanced palliative and transitional care for home health patients and their informal caregivers are needed.
This proposal aims to engage key stakeholders (i.e., clinicians, patients, and caregivers) to develop, refine, and pilot test a Palliative-Transitional Home Health Care model.
Funder: National Institute on Aging
NIH website
Publications of note:
— Bridging the Know-Do Gap in Hospital Care Transitions
Recent Publications
2023
Fainstad T, Syed A, Shah Thibodeau P, Vinaithirthan V, Jones CD, Thurmon K, Mann A. Better Together: A Novel Online Physician Group Coaching Program to Reduce Burnout in Trainees: A Longitudinal Analysis. Acad Med. 2023 Nov 1;98(11S):S201-S202. doi: 10.1097/ACM.0000000000005412. Epub 2023 Oct 16.
PMID: 37983447
Learn more about this publication at Dimensions
Mann A, Shah AN, Thibodeau PS, Dyrbye L, Syed A, Woodward MA, Thurmon K, Jones CD, Dunbar KS, Fainstad T. Online Well-Being Group Coaching Program for Women Physician Trainees: A Randomized Clinical Trial. JAMA Netw Open. 2023 Oct 2;6(10):e2335541. doi: 10.1001/jamanetworkopen.2023.35541. PMCID: PMC10551770.
PMID: 37792378
Learn more about this publication at Dimensions
Cole CS, Dafoe A, Tietbohl CK, Jordan SR, Huebschmann AG, Lum HD, Jones CD. Care challenges of home health patients living with dementia: a pathway forward with palliative care. BMC Palliat Care. 2023 Aug 29;22(1):122. doi: 10.1186/s12904-023-01247-9.
PMID: 37641096
Learn more about this publication at Dimensions
Maw AM, Huebschmann AG, Jones CD. Methods progress note: Applying dissemination and implementation science models to enhance hospital-based quality improvement. J Hosp Med. 2023 May 24. doi: 10.1002/jhm.13139. Epub ahead of print.
PMID: 37225387
Learn more about this publication at Dimensions
Wray CM, Jones CD. Bridging the Know-Do Gap in Hospital Care Transitions. JAMA Intern Med. 2023 Mar 20. doi: 10.1001/jamainternmed.2023.0069. Epub ahead of print.
PMID: 36939664
Learn more about this publication at Dimensions
Tietbohl CK, Dafoe A, Jordan SR, Huebschmann AG, Lum HD, Bowles KH, Jones CD. Palliative Care across Settings: Perspectives from Inpatient, Primary Care, and Home Health Care Providers and Staff. Am J Hosp Palliat Care. 2023 Mar 12:10499091231163156. doi: 10.1177/10499091231163156. Epub ahead of print.
PMID: 36908002
Learn more about this publication at Dimensions
Daus M, Albright K, Jones CD. Disseminating results to participants: An obligation to those who make research possible. J Hosp Med. 2023 Feb 26. doi: 10.1002/jhm.13064. Epub ahead of print.
PMID: 36842161
Learn more about this publication at Dimensions
2022
Mann A, Leigh Fainstad T, Shah P, Dieujuste N, Jones CD. "It's Nice to Know I'm Not Alone": The Impact of an Online Life Coaching Program on Wellness in Graduate Medical Education: A Qualitative Analysis. Acad Med. 2022 Nov 1;97(11S):S166. doi: 10.1097/ACM.0000000000004840. Epub 2022 Oct 18. PMID: 36287695
Learn more about this publication on Dimensions
Mann A, Fainstad T, Shah P, Dieujuste N, Thurmon K, Dunbar K, Jones C. "We're all going through it": impact of an online group coaching program for medical trainees: a qualitative analysis. BMC Med Educ. 2022 Sep 13;22(1):675. doi: 10.1186/s12909-022-03729-5. PMCID: PMC9468533. PMID: 36100880
Learn more about this publication on Dimensions
Williams PH, Gilmartin HM, Leonard C, McCarthy MS, Kelley L, Grunwald GK, Jones CD, Whittington MD. The Influence of the Rural Transitions Nurse Program for Veterans on Healthcare Utilization Costs. J Gen Intern Med. 2022 Aug 30. doi: 10.1007/s11606-022-07401-y. Epub ahead of print. PMID: 36042072
Learn more about this publication on Dimensions
Sjoberg H, Kenney RR, Morgan B, Connelly B, Jones CD, Ali HN, Battaglia C, Gilmartin HM. (2022). Adaptations to relational facilitation for two national care coordination programs during COVID-19. Frontiers in Health Services. DOI=10.3389/frhs.2022.952272
Learn more about this publication on Dimensions
Fainstad T, Mann A, Suresh K, Shah P, Dieujuste N, Thurmon K, Jones CD. Effect of a Novel Online Group-Coaching Program to Reduce Burnout in Female Resident Physicians: A Randomized Clinical Trial. JAMA Netw Open. 2022 May 2;5(5):e2210752. doi: 10.1001/jamanetworkopen.2022.10752. PMCID: PMC9077483.
PMID: 35522281
Learn more about this publication on Dimensions
Golden BP, Lum HD, Jones CD. Improving goal-concordant care in the hospital for patients with dementia in the COVID-19 era. J Hosp Med. 2022 Apr 11. doi: 10.1002/jhm.12817. Epub ahead of print.
PMID: 35403344
Learn more about this publication on Dimensions
Khan S, Jones CD, Kelly MM. Trust during care transitions: Building the relationship between hospitalists and outpatientclinicians. J Hosp Med. 2022 Apr 11. doi: 10.1002/jhm.12821. Epub ahead of print.
PMID: 35403336
Learn more about this publication on Dimensions
Albright, K, Jones, CD. Methodological progress note: The case for mixed methods in quality improvement and research projects. J Hosp Med. 2022; 1- 4. doi:10.1002/jhm.12806
https://doi.org/10.1002/jhm.12806
Learn more about this publication on Dimensions
Gilmartin, HM, Warsavage, T, Hines, A, Leonard, C, Kelley, L, Wills, A, Gaskin, D, Ujano-De Motta, L, Connelly, B, Plomondon, M, Yang, F, Kaboli, P, Burke, RE, Jones, CD. Effectiveness of the rural transitions nurse program for veterans: A multicenter implementation study. J Hosp Med. 2022; 17: 149- 157. doi:10.1002/jhm.12802
https://doi.org/10.1002/jhm.12802
Learn more about this publication on Dimensions
Jordan, SR, Daddato, AE, Patel, HP, Jones, CD. Forgotten frontline workers: Environmental health service employees' perspectives on working during the COVID-19 pandemic. J Hosp Med. 2022; 17: 158- 168. doi:10.1002/jhm.12781
https://shmpublications.onlinelibrary.wiley.com/doi/10.1002/jhm.12781
Learn more about this publication on Dimensions
Nunnery MA, Gilmartin H, McCarthy M, Motta LU, Wills A, Kelley L, Jones CD, Leonard C. Sustainment stories: a qualitative analysis of barriers to sustainment of the National Rural Transitions of Care Nurse Program. BMC Health Serv Res. 2022 Jan 28;22(1):119. doi: 10.1186/s12913-021-07420-1.
PMID: 35090448
Learn more about this publication on Dimensions
Yu A, Jordan SR, Gilmartin H, Mueller SK, Holliman BD, Jones CD. "Our Hands Are Tied Until Your Doctor Gets Here": Nursing Perspectives on Inter-hospital Transfers. J Gen Intern Med. 2022 Jan 6:1–8. doi: 10.1007/s11606-021-07276-5. Epub ahead of print. PMCID: PMC8735724.
PMID: 34993869
Learn more about this publication on Dimensions
2021
Jones CD, Thomas J, Ytell K, Roczen ML, Levy CR, Jordan SR, Lum HD, Gritz M. Is Health Information Exchange Participation Associated With Hospital Readmissions From Home Health Care? J Am Med Dir Assoc. 2021 Sep 1:S1525-8610(21)00738-6. doi: 10.1016/j.jamda.2021.08.012. Epub ahead of print.
PMID: 34480865
Fosnot L, Jones CD, Keniston A, Burden M, Indovina KA, Patel H. Hospitalists' perspectives on challenging patient encounters and physician well-being: A qualitative study. Patient Educ Couns. 2021 Aug 25:S0738-3991(21)00569-3. doi: 10.1016/j.pec.2021.08.023. Epub ahead of print.
PMID: 34511284
Plys E, Morrow CD, Portz JD, Jones CD, Piper C, Boxer RS. Psychological interventions with older adults during inpatient postacute rehabilitation: A systematic review. Rehabil Psychol. 2021 Aug;66(3):233-247. doi: 10.1037/rep0000383.
PMID: 34472922
McCarthy MS, Ujano-De Motta LL, Nunnery MA, Gilmartin H, Kelley L, Wills A, Leonard C, Jones CD, Rabin BA. Understanding adaptations in the Veteran Health Administration's Transitions Nurse Program: refining methodology and pragmatic implications for scale-up. Implement Sci. 2021 Jul 13;16(1):71. doi: 10.1186/s13012-021-01126-y. PMCID: PMC8276503.
PMID: 34256763
Naderi R, Oberndorfer TA, Jordan SR, Dollar B, Cumbler EU, Jones CD. Resident perspectives on the value of interdisciplinary conference calls for geriatric patients. BMC Med Educ. 2021 Jun 3;21(1):314. doi: 10.1186/s12909-021-02750-4. PMCID: PMC8173720.
PMID: 34082723
Limes J, Callister C, Young E, Burke RE, Albert T, Cornia PB, Sehgal R, Jones CD. A Cross-Sectional Survey of Internal Medicine Residents' Knowledge, Attitudes, and Current Practices Regarding Patient Transitions to Post-Acute Care. J Am Med Dir Assoc. 2021 Mar 19:S1525-8610(21)00223-1. doi: 10.1016/j.jamda.2021.02.011. Epub ahead of print.
PMID: 33753022
Del Pino-Jones A, Cervantes L, Flores S, Jones CD, Keach J, Ngov LK, Schwartz DA, Wierman M, Anstett T, Bowden K, Keniston A, Burden M. Advancing Diversity, Equity, and Inclusion in Hospital Medicine. J Hosp Med. 2021 Feb 17. doi: 10.12788/jhm.3574. Epub ahead of print.
PMID: 33617435
Czernik Z, Yu A, Pell J, Feinbloom D, Jones CD. Hospitalist Perceptions of Electronic Health Records: a Multi-site Survey. J Gen Intern Med. 2021 Jan 21. doi: 10.1007/s11606-020-06558-8. Epub ahead of print.
PMID: 33479933
Kaiksow FA, Jones CD, Murray SG. Caring for Noncritically Ill Coronavirus Patients. J Hosp Med. 2021 Jan;16(1):61. doi: 10.12788/jhm.3566. PMCID: PMC7768914.
PMID: 33357333
2020
Jones CD, Bowles KH. Emerging Challenges and Opportunities for Home Health Care in the Time of COVID-19. J Am Med Dir Assoc. 2020 Nov;21(11):1517-1518. doi: 10.1016/j.jamda.2020.09.018. Epub 2020 Sep 17. PMCID: PMC7498200.
PMID: 33138933
Maw A, Ortiz-Lopez C, Morris M, Jones CD, Gee E, Tchernodrinski S, Kramer HR, Galen B, Dempsey A, Soni NJ. Hospitalist Perspectives of Available Tests to Monitor Volume Status in Patients With Heart Failure: A Qualitative Study. Cureus. 2020 Jun 26;12(6):e8844. doi: 10.7759/cureus.8844.
PMID: 32617243
Jones CD, Nearing KA, Burke RE, Lum HD, Boxer RS, Stevens-Lapsley JE, Ozkaynak M, Levy CR. ""What Would It Take to Transform Post-Acute Care?"" 2019 Conference Proceedings on Re-envisioning Post-Acute Care. J Am Med Dir Assoc. 2020 Aug;21(8):1012-1014. doi: 10.1016/j.jamda.2020.02.004. Epub 2020 Mar 17.
PMID: 32192872
Sterling MR, Kern LM, Safford MM, Jones CD, Feldman PH, Fonarow GC, Sheng S, Matsouaka RA, DeVore AD, Lytle B, Xu H, Allen LA, Deswal A, Yancy CW, Albert NM. Home Health Care Use and Post-Discharge Outcomes After Heart Failure Hospitalizations. JACC Heart Fail. 2020 Dec;8(12):1038-1049. doi: 10.1016/j.jchf.2020.06.009. Epub 2020 Aug 12.
PMID: 32800510
2019
Jones CD, Boxer RS. Home care after elective vascular surgery: still more questions than answers. BMJ Qual Saf. 2020 Dec;29(12):968-970. doi: 10.1136/bmjqs-2019-009754. Epub 2019 Dec 3.
PMID: 31796575
Jones CD, Falvey J, Hess E, Levy CR, Nuccio E, Barón AE, Masoudi FA, Stevens-Lapsley J. Predicting Hospital Readmissions from Home Healthcare in Medicare Beneficiaries. J Am Geriatr Soc. 2019 Dec;67(12):2505-2510. doi: 10.1111/jgs.16153. Epub 2019 Aug 29. PMCID: PMC7323864.
PMID: 31463941
Del Pino-Jones A, Bowden K, Misky G, Jones CD. Improving Care for Patients with Sickle Cell Disease: a Qualitative Study of Hospitalized Sickle Cell Patients. J Gen Intern Med. 2019 Dec;34(12):2693-2694. doi: 10.1007/s11606-019-05304-z. PMCID: PMC6854201.
PMID: 31452034
Callister C, Jones J, Schroeder S, Breathett K, Dollar B, Sanghvi UJ, Harnke B, Lum HD, Jones CD. Caregiver Experiences of Care Coordination for Recently Discharged Patients: A Qualitative Metasynthesis. West J Nurs Res. 2020 Aug;42(8):649-659. doi: 10.1177/0193945919880183. Epub 2019 Oct 4. PMCID: PMC7124970.
PMID: 31585516
Jones CD, Levy CR. Improved Communication in Home Health Care Could Reduce Hospital Readmission Rates. JAMA Intern Med. 2019 Aug 1;179(8):1151-1152. doi: 10.1001/jamainternmed.2019.2727.
PMID: 31380950
Gustavson AM, Drake C, Lakin A, Daddato AE, Falvey JR, Capell W, Lum HD, Jones CD, Unroe KT, Towsley GL, Stevens-Lapsley JE, Levy CR, Boxer RS; PACRATS Investigators. Conducting Clinical Research in Post-acute and Long-term Nursing Home Care Settings: Regulatory Challenges. J Am Med Dir Assoc. 2019 Jul;20(7):798-803. doi: 10.1016/j.jamda.2019.04.022.
PMID: 31248598
Chopra V, Burden M, Jones CD, Mueller S, Gupta V, Ahuja N, Sigmund A, Eid SM; Society of Hospital Medicine Research Committee. State of Research in Adult Hospital Medicine: Results of a National Survey. J Hosp Med. 2019 Apr;14(4):207-211. doi: 10.12788/jhm.3136.
PMID: 30933670
Patel H, Yirdaw E, Yu A, Slater L, Perica K, Pierce RG, Amaro C, Jones CD. Improving Early Discharge Using a Team-Based Structure for Discharge Multidisciplinary Rounds. Prof Case Manag. 2019 Mar/Apr;24(2):83-89. doi: 10.1097/NCM.0000000000000318.
PMID: 30688821
Jones CD, Jones J, Bowles KH, Flynn L, Masoudi FA, Coleman EA, Levy C, Boxer RS. Quality of Hospital Communication and Patient Preparation for Home Health Care: Results From a Statewide Survey of Home Health Care Nurses and Staff. J Am Med Dir Assoc. 2019 Apr;20(4):487-491. doi: 10.1016/j.jamda.2019.01.004. Epub 2019 Feb 22. PMCID: PMC6594376.
PMID: 30799224
Jones CD, Jones J, Bowles KH, Schroeder S, Masoudi FA, Coleman EA, Falvey J, Levy CR, Boxer RS. Patient, Caregiver, and Clinician Perspectives on Expectations for Home Healthcare after Discharge: A Qualitative Case Study. J Hosp Med. 2019 Feb;14(2):90-95. doi: 10.12788/jhm.3140.
PMID: 30785416
return to top